The Weddle HV2 Evolution
What makes the new Weddle HV2 gearboxes better? We cut no corners designing the next generation Weddle HV24 and HV25 transaxles. We made the gears wider, added extra bearings for support, used tapered roller bearings to handle end-thrust, redesigned the shift mechanism, added an internal oil pump option and labored over every detail until we got it just right. Put that on top of the 30 years of industry experience and insight that went into the original Weddle HV1 and we have a something that we are very proud of.
It took us years to get here. We had to make some adjustments along the way, but the result was worth the wait. We are proud to introduce the Weddle HV2 transaxles.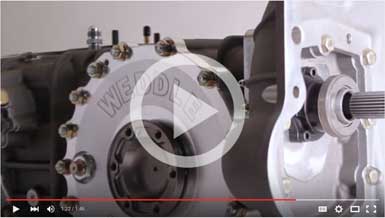 Features:
27mm wide forward gears - a

ll gears ground after heat treat

Heavy duty synchronized reverse gear

Weddle Racing 10" Klingelnberg Palloid ring & pinion

Torsional 300M input shaft

Tapered roller bearings on mainshaft to handle end thrust

Heat treated and precision ground shift rails and shift shaft

Billet shift forks

Shift shaft more centrally located for ease of installation

Optional 934 flanges

Optional Chevy bell housing
See options, gear ratios and technical information here.