New HV2 Internal Lubrication System Option
Today's bigger tires, bigger engines and more sophisticated suspensions put extra demands on today's gearboxes. The new Weddle HV2 transaxles take oil distribution and lubrication to the next level with an internal lubrication system option. While the original HV1 oil system relied on internal splash to lubricate the main shaft bearings, the newly developed HV2 lubrication system directly feeds a constant supply of oil to all main shaft bearings and gears.  
Efficient Internal Oil Pump. New for next generation Weddle HV2s is a compact, efficient internal oil pump that is powered by the pinion shaft. This eliminates the need for an external pump and power source. Since the pump is run off the pinion shaft, as the wheels spin faster, the pump increases action as well.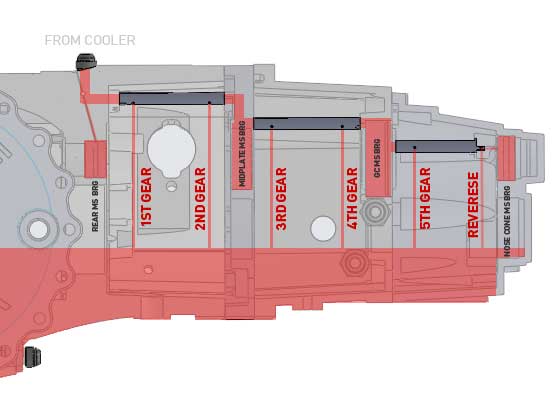 Other Weddle HV2 features include:
27mm wide forward gears - a

ll gears ground after heat treat

Heavy duty synchronized reverse gear

Weddle Racing 10" Klingelnberg Palloid ring & pinion

Torsional 300M input shaft

Tapered roller bearings on mainshaft to handle end thrust

Heat treated and precision ground shift rails and shift shaft

Billet shift forks

Shift shaft more centrally located for ease of installation

Mid-plate bearing support between 2nd and 3rd gears
Optional 934 flanges

Optional Chevy bell housing
Options, gear ratios and technical information here.