New Precision Weddle HV2 Shift Linkage
Upgraded precision components. The new Weddle HV2 gearboxes feature upgraded internal components for improved shift performance including:
Stronger and stiffer billet shift forks

Heat treated and precision ground shift rails and shift shafts

Bronze shift rail guides

Hardened and ground steel shift gates

Improved HV2 shift rod, ball and cup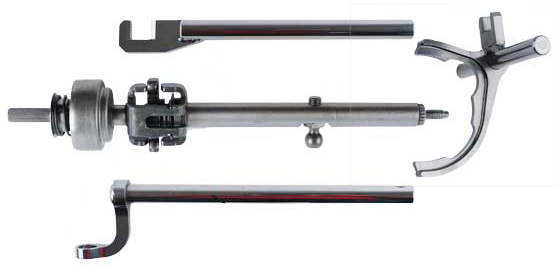 Centrally positioned shift rod. We relocated the shift rod on the new HV2 gearboxes within 1.75 inches of the centerline. This enables a simple, direct and efficient linkage from the shifter to the gearbox.
Mid engine ready. We left the original offset shift shaft on the side of the HV2s for use in mid-mount applications. A specially designed shifter and bolt-on linkage are available.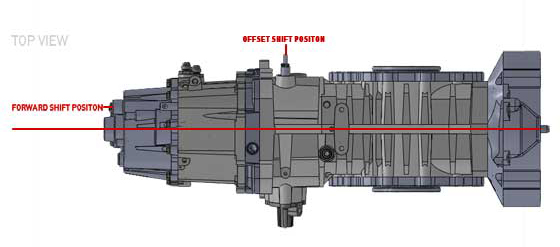 Internalized ball/cup. We relocated the ball/cup mechanism from the external adapter of the HV1 to inside the main case in the new HV2s. This allows the ball/cup to remain lubricated and grime free.
---
Other Weddle HV2 features include:
27mm wide forward gears - all gears ground after heat treat

Torsional 300M input shaft

Mid-plate bearing support between 2nd and 3rd gears

Tapered roller bearings on mainshaft to handle end thrust

Heavy duty synchronized reverse gears

Weddle Racing 10" Klingelnberg Palloid ring & pinion

Optional 934 flanges

Chevy bell housing option

Internal oil pump option
See options, gear ratios and technical information here.
---
HV25-TRANS     Weddle HV2 5-Speed Transaxle, Complete
See pricing
HV24-TRANS     Weddle HV2 4-Speed Transaxle, Complete
See pricing