SCORE 2018: Winslow, Chamlee, and Herrera Finish On Top

Ensenada, B.C., Mexico —While staging fewer events than other series, the SCORE season contains two of the most legendary races in off road. Earning a spot on the podium or a SCORE season title is a huge feather in any team's cap. This year, several Weddle-equipped race teams battled their way to the top of SCORE class standings  and racked up impressive results along the way.
---
Learn more about our entire line of racing transaxles.
---
Two Class 10 racers proved once again that consistency throughout the season pays off. Though a SCORE win eluded  Todd Winslow in 2018, Winslow managed to snag three top 3 finishes in Albins AGB 10-equipped car 1081 putting him on top of Class 10 at year's end for the 2018 SCORE Class 10 title. Consistency also paid off for Kevin Price in Weddle S5-equipped 1048 who managed three top 10 finishes during the season that earned him the third spot in Class 10 at year's end.
In Class 700, Dan Chamlee in his Weddle HD Clutch-equipped 700 truck battled Jeff Proctor in the Albins ST6-equipped 709 Honda Ridgeline throughout the season. Chamlee finished second behind Proctor at the Baja 500, but managed the Class 700 win at the Baja 1000. Chamlee's three top 3 finishes during the season earned him this year's SCORE Class 700 title.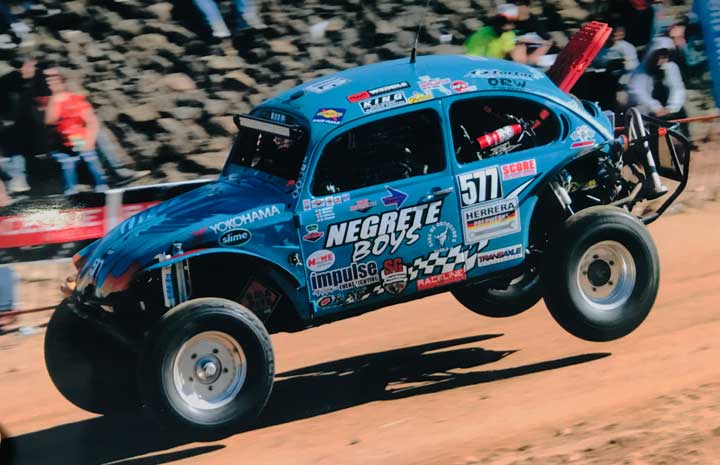 Photo courtesy: Negrete Boys Racing
577 Luis Herrera had a strong SCORE Class 5-1600 season. Herrera with Ernie Negrete finished the year with a class win at the  Baja 1000 giving him three top 2 finishes in SCORE events this year and the 2018 SCORE Class 5-1600 title.
Huge congratulations to all the 2018 SCORE Champions. We wish them all the best of luck in the new season.
---
Questions? Please contact us.
---
Top Finishers 51st SCORE Baja 1000 2018
November 14-18, B.C., Mexico
Class 700
1.  700 Dan Chamlee — Weddle HD Clutch
2.  709 Jeff Proctor/Honda Ridgeline — Albins ST6 Sequential
Class 5-1600
1.  577 Luis Herrera — Weddle Racing Gears
Class 1/2-1600
1.  1624 Bruce Yee — Weddle Racing Gears
2018 SCORE  Season Champions
   Class 10   1081 Todd Winslow — Albins AGB 10
   Class 700   700 Dan Chamlee — Weddle HD Clutch
   Class 5-1600   577 Luis Herrera  — Weddle Racing Gears