Battle at Primm: Multiple Class Wins for Weddle-equipped Teams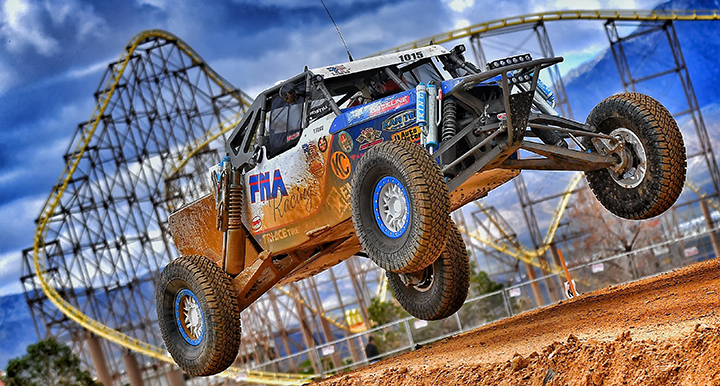 Primm, NV—Over the second weekend in April, Nevada's Primm Valley sprung to life again after the recent Mint 400. Just over the California border, SNORE racers converged for this year's King Shocks Battle at Primm. Qualifying heats took place at Buffalo Bill's, with the casino's iconic roller coaster serving as the backdrop.
Weddle-equipped teams earned multiple wins and podium finishes. In Unlimited Class, Joe David took the win piloting Albins AGB-equipped car 152. Two Weddle-equipped cars earned spots on the Class 5 Unlimited podium with Justin "Bean" Smith driving Weddle MD5-equipped 516 taking first and Allen Byma in Weddle HV1-equipped 508 finishing second.
---
Learn more about our complete line of racing transaxles.
---
More great finishes in Class 9, 1000 and 1600. 1686 Daniel Deen took the top spot in Class 1600 with 1634 Curt Greer in second. In Class 9, 920 Kurt Davidson, Jr battled his way to the win and James Ford fought his way on to the Class 10 podium with a second place finish in in Weddle S5-equipped 1015.
2019 is shaping up to be a great year for Weddle-equipped teams. We can't wait to see what the rest of the  SNORE season brings.
---
Questions? Please contact us.
---
Top Finishers 2019 SNORE Battle at Primm
April 12-14, Primm, Nevada
Unlimited
1. 152 Joe David — Albins AGB
Class10
2. 1015 James Ford—Weddle S5
Class 5 Unlimited
1. 516 Justin Smith — Weddle MD5
2. 508 Allen Byma —Weddle HV1
Class 1600
1. 1686 Daniel Deen — Weddle Racing Gears
2. 1634 Curt Greer — Weddle Racing Gears
Class 9
1. 920 Kurt Davidson Jr. — Weddle Racing Gears