Albins ST6-M Transaxle: Mid-Engine Ready
Lightning fast shifts for mid-engine applications. Borrowing the 6-speed sequential base of the original ST6 developed for V8 Supercars, the Albins ST6-M couples lightning-fast shifts with an efficient set of drop gears for quick, simple ratio changes.
Like the entire Albins ST6 Series, the ST6-M is a strong, reliable package that is simple and straight forward to service. In an effort to reduce drag, the ST6-M features roller bearings and straight-cut, profile ground gears that are shot peened and isotropic polished to help increase gear life. Inspection ports make routine inspection easy without disassembly. Internal oil pumps are standard.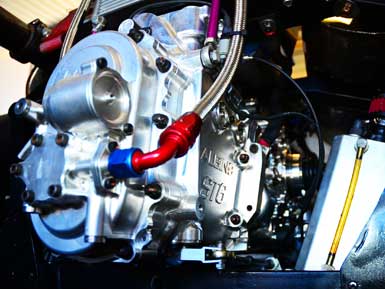 Albins ST6-M features:
Albins Klingelnberg Palloid ring and pinion set

Gears profile ground after heat treat

Cast LM25 aluminum housings heat treated to T6 condition and stainless shot blasted

All gears shot peened and isotropic finished

Optional plate type LSD available

Innovative design allows very low engine mounting

Exceptionally short shift event times

Drop gear option for fast, economical gear changes

Straight cut drive gears for low friction and use of roller bearing internals for low friction

Internal oil pump and lubrication/cooling system

Wide selection of drop gears available

Inspection ports allow visual check of gear and dog wear

Rod or cable shift activation

Tripod style output flanges standard. CV flanges optional